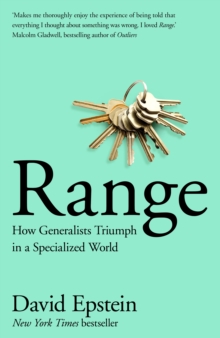 Growing up I would jump from interest to interest all the time. I thought this meant I gave things up too often, but perhaps I was a generalist. If, like me, you find that focusing on one path forever doesn't suit you, then this book is for you. David Epstein teaches us why not wanting to specialise may be our biggest strengths.
The book had so many interesting ideas that I couldn't summarise them all in one post. Instead, I will be splitting the summary into a mini-series, starting with this post.
Kind Environments and Wicked Environments
Careers are not made equal. You have Kind environments and Wicked environments.
Qualities of Kind environments:
Easy to define successes and failures
Examples include games, music and sports
You can measure success in a game or sport by winning or losing. When playing music, you can hear if it is wrong. Sports have world champions, Orchestras have First Chair's. In Kind environments specialising is better for success and outdoing the competition.
Wicked environments are the opposite:
No clear definitions of success
Feedback varies in usefulness and how often you get it
Examples include most knowledge work
You can't win or lose at accountancy. How do you compare software developers? Who is the world champion at repairing cars? Where do you rank in your job?
Abstraction is a Skill
Abstraction is understanding connections and differences between things.
To give an example, you see a bike, a tricycle and a car. You can tell that the bike and tricycle are similar and the car is different. You pedal a bike and a tricycle, cars have engines.You can also tell what a car has in common with the bike and tricycle. They all have wheels and are all modes of transport.
You can access more information on your phone than your grandparents saw in their whole lives. You can categorise all this information. These categories allow you to say what is similar and what is different between billions of things. Your ability to do this would seem superhuman a few hundred years ago.
Epstein illustrates this with a tale of some remote villagers. They had lived in their small part of the world for generations, not having access to the outside world. They were the closest thing we have to humans before the modern world. Researchers asked the villagers questions, to see how they think.
The villagers were told "in cold, snowy weather, bears are always white, north of here it is cold and snowy" then they were asked "What colour are the bears?"
The villagers replied "I don't know, I have never been there" – they decided they couldn't know something that was outside of their direct experience. They couldn't abstract information.
The villagers were asked to find the odd one out given the following items:
The villagers said there is no odd one out, they are all connected. You put a bullet in a rifle, to shoot the bird, which you cut for meat with the dagger, it's the only way – they didn't see a difference between weapons and prey, but instead saw how each one connected to their daily experience.
Self-Taught Vs By-The-Book Teaching
If you want to learn an instrument, you may feel it's best to get a teacher. It will be easier and at the beginning and quicker. But, if you are willing to struggle at first and take your time, you could become a better musician.
It is slow and difficult to learn to play music by ear, but it forces you figure it out for yourself.
Musicians who learned by mimicking music they've heard, are often called "naturals". They seem to have a way with the instrument. In truth, they have the hard won skill of learning how to learn effectively.
Many classically trained musicians, whilst being elite musicians, struggle to improvise. Classical training is very strict, there is a right way and a wrong way to play. Improvisation is more free flowing and it's harder to define what's "good".
Classical musicians are specialists in their music, playing with discipline and precision. Improvisers are generalists, able to pick up any tune and make it their own.
Come back next time to see what Epstein can teach us about interleaving and analogies.