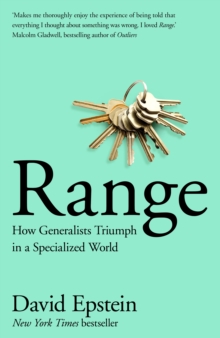 https://www.hive.co.uk/Product/David-Epstein/Range–How-Generalists-Triumph-in-a-Specialized-World/23483102
The Slow Power of Interleaving
Interleaving is practising many skills in one session. Block learning is practising each skill one at a time. An example of a study plan for each, where the exam contains the 3 topics Shapes, Sums and Algebra is below:
| | |
| --- | --- |
| Day | Topics |
| 1 | Shapes, Sums, Algebra |
| 2 | Shapes, Sums, Algebra |
| 3 | Shapes, Sums, Algebra |
An interleaved study plan
| | |
| --- | --- |
| Day | Topics |
| 1 | Shapes |
| 2 | Sums |
| 3 | Algebra |
A block learning study plan
Block Learning
Block learning is easier and leads to quicker progress in the beginning. The quick progress feels good to students. Students who feel good in their learning, leave better reviews of their teachers. However, the surveys don't mean everything, as the block-taught students often get worse exam results.
Block learning only teaches you how to do a skill, not when to use it. You can end up knowing lots of solutions to problems, but not be able to match solutions to the right problems. For example, if you were a software developer, you may know the perfect way to write an algorithm but have no idea when it's useful. Making your development skills pretty poor.
Interleaving
Compared to block learning, interleaving feels like more of a struggle. Short-term progress is slower, but this discomfort is good, you learn more deeply.
When you interleave, you learn to look at a problem and figure out which method will fix that problem. In the working world, you will face many problems where the solution isn't clear. Again, if you were a software developer, someone in the business might need you to get them all the sales from June. They don't know how to do it, that's why they asked you. So you need to know how to report sales in June and which of your tools will best solve the business person's problem.
Interleaving Vs Block Learning
Block learning teaches you how.
Interleaving teaches how and what.
Block learning and interleaving give you the tools to solve problems. Only interleaving teaches you when to use which tool. This is why when studying for an exam, it can be better to study past papers. The different topics are all mixed up. You have to recognise the question and which tool will give you the answer.
Block learning can be useful to drill one topic, then you put it back in to the mix once you're more comfortable with it.
Use Analogies to Understand
An analogy is finding a similarity between two things that aren't obviously similar. For example in your science class at school, your teacher might have compared the heart to a pump. Your heart is an organ, a pump is a tool, but each one pushes liquids around.
Epstein mentions a study that tells us that the most effective labs have scientists from the wide-ranging fields. The scientists tend to be multidisciplinary. Having knowledge across 2 or more fields helps them find solutions not obvious in either one field. Specialists have extremely deep knowledge in one narrow field, so they can't make these cross-boundary discoveries.
What Makes a Good Analogy?
A good analogy will be different on the surface but similar at a deeper level. Where a 'good' analogy is one that helps you understand something new.
Social distancing that everyone is talking about these days can be pretty confusing. It's not a term we used before the COVID-19 pandemic. Why are we doing it? Does it help if I say that normal social conventions include mass gatherings and contact with multitudes of people on a daily rate, that can cause an exponential growth of the disease by multiplying infection rate?

Or does the below video that compares infections to ping pong balls make the concept clearer?
On the surface infections and ping pong balls have nothing in common, but at the deeper level, this analogy explains how social distancing helps using an analogy we can understand more easily.
Using Analogies to Learn
Making good analogies is hard. To deepen your learning, interrogate your analogies, where do they fit? Where do they fall down?
How are ping pong balls hitting mousetraps not the same as a population of people who may or may not have COVID-19?
Learn about abstraction, Kind and Wicked environments and more in part 1