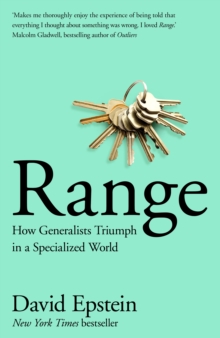 https://www.hive.co.uk/Product/David-Epstein/Range–How-Generalists-Triumph-in-a-Specialized-World/23483102
This book contains so much wisdom I have had to split the posts into separate parts.
In the first part I looked at what Epstein told us about abstraction and learning environments and in the second part Interleaving and analogies.
In this third part, I am going to summarise Epstein's findings on why job-switching can be a good thing, when a generalist or specialist is best for solving problems and how being a generalist can make you better at prediction.
Job-Switching Can Lead to Greater Happiness
The traditional career path of our grandparents was to get a job, stick at that one company, learning the ropes and gradually climb the career ladder through hard work. Today, millenials change job more than any previous generation. Epstein's research tells us that is not a bad thing. Phew! I've had 5 jobs 5 years out of university!
Successful job-switching does require some planning to be successful though.
The key is to try your hardest to get something out of the job before you move on. Learning what you do and don't like requires dedication. Job-switchers, are more likely to find a satisfying career, than people who stick at their first job.
Epstein tells about how Van Gogh became one of the greatest painters of all time. He was the best switcher in the game, he tried a different art style every few weeks. Each time he would try a completely new style. Become obsessed with it and completely focus all his efforts on perfecting it. Then one day he would get bored, and drop it. The he'd move on to a new art style doing the same thing all over again.
A typical few months for Van Gogh could look like this:
Learn oil paints
Master oil paints
Never oil paint again
Learn charcoals
Master charcoals
… You get the idea
Fear of Changing Career
Quitting a career path can feel like you have wasted too much time and effort getting to where you are. This is often called the sunk cost fallacy and is the wrong way to think about this problem. Epstein quotes Seth Godin, saying the time is already wasted. It's actually braver to quit and start something new, than to keep on in a career you hate.
Little Bets Beat Grand Plans
When you leave school and often many years before, people will ask you "what do you want to do?". For most of the western world, we start our first careers between the ages of 18-29. Between these ages, you tend to change more as a person, than at any other point in your working life. These personality changes make it almost impossible to plan your career. You're planning for a stranger.
A better method to make effective career decisions is to make a short plan, test it, then reflect. Little bets.
Little bets allow you to try out lots of different ideas and learn from each one. You will learn more by making these little bets than you would from deep introspection. You can get real data about how you respond to certain jobs and environments. Analysing the data allows you make better decisions.
The analysis can be simple e.g. working as data analyst:
Did I like working behind the scenes or would I rather be on the front lines?
Did I like the intellectual challenge or do I want a different kind of challenge?
Did I like being at a compute all day or do I want to be outside more?
When Hyperspecialisation is Blinding
Hyper-specialisation has created experts who know very narrow topics at extreme depth. This has led to many fields having problems that their experts can't solve. These experts think too narrowly, they can't connect ideas outside of their expertise.
A new point-of-view can often help solve a problem. This is the logic behind sites like https://www.innocentive.com/. The site offers up problems to the public for anyone to solve. The problems have usually stumped experts for too long. The hope is someone not specialised in the field will see something no one else has. The reward for doing so, is a cash prize.
Depth Vs Breadth
Lateral thinking is being able to think broadly and make connections across multiple concepts and fields.
Vertical thinking is being able to think deeply and specialise in a topic.
Deep thinking doesn't trump broad thinking and vice versa. But together they make great teams, when they are able to work as a team. Often a T-shaped person, someone who has both depth and breadth, can bridge the two types of thinker.
3M studied inventors and found :
If the question is unclear and the outcome you want is unknown, hire a broad thinker.
Do you have clear problem with specific limitations? You need a specialist.
Polymaths often have wider interests than generalists, but less depth than a specialist. These tend to be the most successful inventors of all.
Specialists Make Bad Predictions
Professor Tetlock, author of Superforecasters, has names for the two types of forecaster: Hedgehogs and Foxes.
Hedgehogs can do one thing very well and tend to do that thing often (specialists)
Foxes can do many things quite well but not as good as any hedgehog at each thing (generalists)
Foxy Thinking
Foxes make the best forecasters, not because they know more, but because of how they think.
Foxes view their ideas as hypotheses they can test. Foxes will update their ideas when new information disproves their original idea. They change their ideas to match evidence, not the other way round.
Foxes do everything they can to disprove their own ideas. They don't aim to prove they're right, they aim for the truth.
Foxes are open-minded and flexible. They don't follow simple cause and effect models. It's not if X then Y, but rather many small chunks of information combined. Each chunk having its own cause and effect. Foxes use statistics to find what is most likely, rather than attempting to find certainty.
Hedgehog-Style Thinking
Hedgehogs makes predictions based on a specialised theory. Once they gain new information they change their interpretation of the data to fit their original idea. Hedgehogs have low open-mindedness.
Hedgehogs tend to be stubborn. They believe that if they succeed, their theory was correct, if they fail, then it must have been a near miss.
Hedgehogs are so specialised they tend to think with blinkers on. They don't have a super focus on ignoring new evidence that disagrees with their beliefs. They excel at finding evidence that supports their beliefs. A good example would be any conspiracy theorist.